PRICING YOUR COOKBOOK-

Price your cookbook in minutes with our new price calculator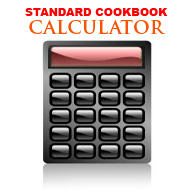 Our unique
standard cookbook price calculator
makes it easy to price any size cookbook.  Start by clicking on the price calculator icon and entering the number of recipes and number of books you plan to order. The price calculator will then step you through our many free options and give you a final price quotation. (For any concerns/questions contact us about cookbook publishing.)
*REMEMBER minimum order is 100 books, when using the calculator.
*RUSH SERVICES are available. (25 working days guaranteed ship time, 15% on order total or $200 minimum).
1-800-853-1363
Free features with every Cookbook we publish include:
FREE Fundcraft full-color front cover design.
FREE Custom black & white front cover.
FREE Lamanation on front & back cover.
FREE Plastic comb, plastic coil binding or perfect binding.
FREE Selection of full-color and black & white divider designs.
FREE Tab dividers collated in cookbooks.
FREE Special occasion dedication page.
FREE Local information pages (up to 4 free, including 1 black & white photo).
FREE Recipe pages, printed in black ink on white 60# text paper.
FREE 5 Standard recipe formats.
FREE Continued recipes.
FREE Black & white page graphics.
FREE Special recipe symbols.
FREE Recipe typing and proofing.
FREE Table of contents.
FREE Index of recipes and contributors.
FREE Mail order page.
FREE 16-page helpful cooking hints section.
FREE Online proof copy (Fundcraft typed books).
FREE Cookbooks to help defray shipping costs.
FREE Recipe collection forms.
FREE Working with the pioneer of fundraising cookbooks.
Listed below is our standard price chart by the number of recipes and number of cookbooks you plan to order.  You can either use the price calculator or reference our price chart below.

⇡ TOP