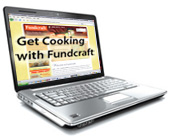 When your book has been formatted into the
recipe style (formats) you selected, the billing and correspondence person will receive an email notifying them that a proof copy of the book is available on our website for review if this option is selected on the cookbook order form. The chairperson can print the pages, mark any needed corrections and return the pages by email or fax. *If the ShortCut™ program was used and recipe corrections are needed, the ShortCut™ discount will be deleted. Each proof will be posted for 5 days (not business days). If we do not receive a reply at the end of the 5 days, the proof will be released to the plant and no changes can be made after this date.
*NOTE, additional cover or recipe proofs available upon request for an additional charge. Additional proofs will effect production schedule.
For any questions about proofing your cookbooks, cookbook publishing or fundraising cookbooks, contact us.