POCKET ENVELOPE FOR YOUR COOKBOOK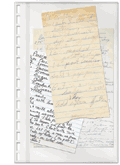 [ Heavy clear plastic envelope ] Fundcraft offers two types of recipe pocket envelopes that can be bound into your personalized cookbooks to store handwritten recipes or those clipped from magazines and newspapers. The envelope will be bound after the Helpful Cooking Hints section.

This is our most popular and durable envelope. Made of heavy, clear plastic, this envelope will last for years of daily use storing your favorite recipes. The envelope opens next to the binding edge of the book to ensure that recipes are secure.
(Contact us about pocket envelopes, cookbook publishing or cookbook fundraising).