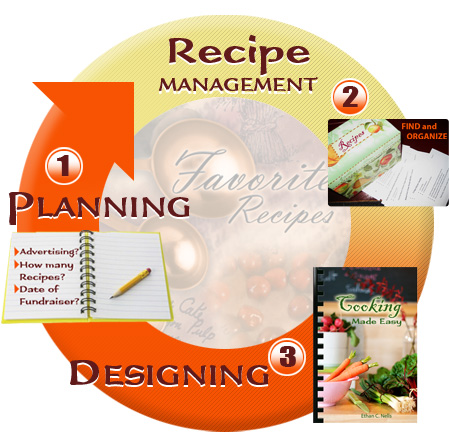 The 'Planning' stage
.
Plan out each of the following. [These are suggestions].

The 'Recipe Management' stage. Collect and sort your recipes,
send to Fundcraft to type or type your recipes using our
Short/Cut™ CD program (saves 25¢ per book).


The 'Designing' stage.
Complete your Fundcraft Publishing Order Form and choose your cover, dividers, recipe format, special pages, etc. and let us do the rest!

Use Short/Cut™ Online (recipe typing software online!) This is the most popular cookbook publishing software. This recipe typing software is user friendly and easy to use. Once you've completed typing your recipes, you're on your way to using Fundcraft's cookbook fundraising program (one the most successful cookbook fundraising programs). So, let's start typing recipes and inform Fundcraft Publishing of your success story.

Start Now and Create Your Cookbook: