WHY A COOKBOOK? [Why Fundraising Cookbooks?]
Trading recipes has been a popular pastime for generations upon generations. You can turn this time-honored tradition into an exciting and profitable cookbook fundraising program that involves the entire community. A cookbook published by your club, church or organization will have a far-reaching appeal and can mean big bucks for your group. [Excite your group with fundraising activity ideas.] You create a colorful, personalized cookbook with recipes and cooking hints from club members, town celebrities and those locally "famous" cooks whose recipes have become legendary in the community!


You collect the recipes, we will do the rest!
All of our cookbook fundraising programs are very easy to complete. You collect and sort the recipes and select one of our beautiful, full-color front covers and section divider designs and we will do the rest. Our cookbook programs are quick and easy for our busy customers. Each book contains many free items that are included in the
base price chart - with no hidden costs. Fundcraft takes great pride in the quality of each book shipped, and we stand behind our long history of customer satisfaction. With over 100,000 satisfied customers in all 50 states, our reputation is second to none in the cookbook fundraising business.

COOKBOOKS ARE GREAT FOR —


Fundraising...Why do cookbooks sell? It's simple. People love good food.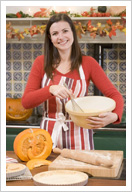 Your personalized cookbook will contain dozens of flavorful recipes that have been family favorites for years. The best cooks in your community will jump at the chance to see their specialties in print. They'll want to buy copies, as will the many friends and neighbors who have sampled these tasty treats over the years. Your fundraising cookbook will contain the secrets behind these delectable dishes and everyone will want a copy of your community or church cookbooks. Remember, community fundraising, school fundraising and church fundraising can be fun and assist you to publish a cookbook!



Family Heritage...Family recipes are a treasured resource of any heritage and should be preserved for the younger generation.

Many families collect recipes from family members and celebrate the book at a family reunion, selling to family members not as a fundraiser but as a collection of favorite recipes handed down through the years.



Business Promotions...Many Fundcraft customers will develop a personalized promotional cookbook and sell for profit, while some will give cookbooks to customers in appreciation of their patronage. A promotional cookbook with good recipes will be used for years to come, while other gifts are forgotten or discarded. Cookbooks also work very well for banks as gifts to new customers,


or for mortgage and real estate companies who wish to reward patrons for their business. Fundcraft Promotions at www.fcpromotions.com sells thousands of promotional cookbooks.

Are there too many cookbooks already?

Absolutely not! Fundcraft has published thousands of different cookbook titles in every state and we find that every cookbook is unique and sells well both in the community and on our worldwide internet site. Your organization's cookbook will be unique because it will contain hometown recipes from a source no one else can claim . . . your members and friends. (*Need ideas for fundraising? Fundraising cookbooks is a proven program to promise success.) Women and men, too - love to collect cooking secrets from someone else's kitchen. Just turn on the television and see how many popular cooking shows are featured every day.

*Sell your cookbook for years on our free internet site.
PROFESSIONAL QUALITY
The professional quality of Fundcraft cookbooks is a major reason your books will sell on sight. Fundcraft has several different and unique cookbook fundraising programs, each designed for a specific audience with specific goals for how much money they want to raise.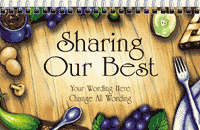 The Original Fundraising Cookbook Program features a large number of free items to make one of the top quality cookbooks on the market today. There are many options available to tailor a cookbook to the custom specifications of any group.

YOU NEVER INVEST A PENNY IN ADVANCE
     An organization that needs money usually doesn't have money to invest. With the Fundcraft earning plan, you send no money with your order and pay nothing on delivery. We give you 67 days, interest free, to sell and pay for your cookbooks. Please check our terms and policies.
Are you pondering ideas for fundraising? You can stop here. Fundcraft Publishing can show you how to have success in fundraising cookbooks.

How much money can we raise?
    Just about as much as you want to raise! The only limit to your fundraising potential with the Fundcraft Cookbook Program is determined by the amount of money you need and the number of members you will have selling your exclusive cookbook. We can continue selling your book for years on our
free internet site. And with our quick online ordering process and low reprint prices, your book will generate funds for years to come. (School Fundraising is a great idea that's a proven way to generate money, for school needs.)
WE GUARANTEE YOUR SUCCESS.

   We have made the job of creating a professional personalized cookbook very easy with our unique
step-by-step program. For many years, Fundcraft has been the leader in the personalized cookbook field, due mainly to our simple program which makes the project fun for all involved. We publish more cookbooks each year than all of the other publishers combined. We guarantee that your cookbooks will sell if you follow our simple marketing program. If for some reason the books don't sell and you followed our program, you can return the books for a full refund. For more information, please refer to our sales guarantee.

[Your resource for Cookbook Publishing and Cookbook Fundraising.]

*Sell your cookbook for years on our free internet site.