Terms and Policies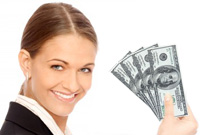 Fundcraft takes pride in the fact that fundraising groups can complete the Cookbook Program with no down payment, receive prepaid shipping and enjoy up to 67 days interest free to pay the balance after the cookbooks are shipped.

Payment Terms — Fundcraft gives every fundraising group time to sell their books before paying. There is no prepayment of any kind for nonprofit-organizations with approved credit. Your first payment of 50% of the total is due 37 days after the books are shipped, with the balance due 67 days from shipment.

We also publish many cookbooks for individuals, families and businesses who sell the books for profit. The payment terms for individuals, families and businesses are different than for fundraising groups or organizations. Individual payment terms are 50% of the total when submitting the order. Once the order has been printed, we will send the final invoice for the balance of the order, which must be paid before the order can be shipped.
Production Time — After Fundcraft receives your order, within a week, we will email or mail you a complete order acknowledgement. This acknowledgement is

Fundcraft's interpretation of your order and should be checked carefully. No response is necessary if it looks correct. The next step will be notification that your proof copy

has been posted to our website, if this option is selected on the order form. The proof will be posted for five days (calendar days, not business days). *NOTE, login to Fundcraft.com, then click "proof your cookbook." You'll be able to proof your Recipes, Cover and Special Pages. If no response is received, your book will be placed on hold until we receive a reply.
The key to any successful fundraising community cookbook program is planning. Production time is usually 25-30 working days with our standard Short/Cut™ cookbook. Production time will be extended if Fundcraft types and proofs your recipes. Production time is longer for orders with specialty options such as 3-ring notebook, hard cover, tabs, etc. & during our peak season. Shipping time is usually two to four days, depending upon how far you are from our plant in Tennessee. We do try to meet all requested delivery dates if possible. Fundcraft works with thousands of groups, and we try to treat every group equally when it comes to shipping time. If we do have an opening in production, we will try to fill the slot with a group that has requested an early ship date.
*We offer a RUSH service of 15% of the order total or $200 minimum.
Overruns and Underruns — The number of books you receive may not be the exact number you ordered due to our overrun/underrun policy. All orders are

subject to a 10% overrun/underrun. This is a standard practice in the printing industry, due to an estimated 10% spoilage which may occur at different phases of production. You will only be billed for the number of books you receive, which may be up to 10% more or less than the number ordered.

Regardless of over or underrun, we always include 3% of the total books at no charge to cover freight.


With 10% spoilage, you will receive the exact number of books you ordered.

If more than 10% was lost in spoilage, your order may be short books (underrun).


If less than 10% was lost in spoilage, your order may contain a maximum of 10% extra books (overrun). If there is an overrun of your books, you will only be billed for those books shipped, with a maximum of 10% less the 3% freight books.
Shipping
Fundcraft ships 3% free cookbooks with every order to help defray freight expenses. Fundcraft does not guarantee that the 3% in free books will cover the total freight cost.

However, your group may actually make money on the free books depending on the amount you charge for your free freight books.

International Orders
       Orders shipped out of U.S. must be prepaid for both books and freight. The U.S. Postal Service ships overseas orders. Delivery usually takes four to six weeks. We only ship to military addresses outside the U.S.

Commercial Carriers
Commercial trucks save costs to the customer, especially on large or heavy orders. They only deliver to street addresses (not to post office boxes). They give priority delivery service to business addresses, consider using a place of business as the shipping address on the order for.
Commercial trucks charge extra for inside delivery and unloading of the boxes. These charges are the responsibility of the customer and are included in the freight expenses on the final billing.

Damaged Cookbooks
Inspect every box upon delivery. All damage is the responsibility of the freight carrier and should be reported immediately to [ Fundcraft ]. Keep the damaged books and damaged boxes; FedEx and UPS may require both to process the damaged claim. Be sure all damages are brought to the attention of the freight carrier when you sign for your books.

Reprints
More than half of Fundcraft customers order one or more reprint orders of their cookbook due to high demand in sales. Many groups reorder a supply of their cookbooks year after year as an easy way to replenish their treasury. Fundcraft will keep the printing files for at least five years after the last printing.
Reprint quotations for most orders can be obtained from our website, www.fundcraft.com. Just enter the Fundcraft secure web ID for your group and password. There is a 200 book minimum on most orders. Fundcraft is proud to help every group with their reprint orders. Ordering is easy and production is fast.
Reprints average 10 to 15¢ per book less than your first order for the same number of cookbooks. However, if the quantity in the reorder is less than the first order, the price will increase due to the smaller number requested. All reorder quotations are based on our current
price chart.
Privacy
We are the sole owners of the information collected on this site. We only have access to collect information that you voluntarily give us via email or other direct contact from you. We will not sell or rent this information to anyone.