RECIPE COLLECTION OPTIONS

OPTION 1 | OPTION 2 | OPTION 3 | OPTION 4
Option#1: Fundcraft Types Your Recipes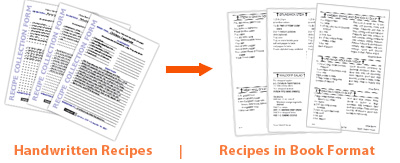 Fundcraft will type and proof your recipes for you! Just collect the recipes, sort them into sections, place them in your desired order and Fundcraft will do the rest! After Fundcraft typesets your recipes, we will proofread them against your original copies to check for accuracy. Cookbook publishing production time is 35-50 working days if Fundcraft types your recipes.

Fundcraft provides a online proof copy for 5 days, allowing you to print a copy of your book to check before the production. During the proofing stage, Fundcraft errors will be corrected at no charge, any changes from the originally submitted materials are subject to an additional charge. Hard copy proof is also available for an additional charge. This option must be selected on the cookbook order form.

"You Collect the Recipes and We'll Do the Rest!"